Women's Wedding Band Style Guide
July 24, 2023
When you start thinking of your dream wedding set, you may focus heavily on the engagement ring and stone. Wedding bands are just as important, however, and they symbolize the actual day that your marriage becomes a reality. They're significant and special all on their own, and you deserve a wedding band that makes you feel wonderful every time you see them.
There are several options to choose from, so there's something for everyone. Whether you prefer a more timeless and traditional look, extra glamor, or elegance and sophistication, your wedding band reflects your taste and style just as much as an engagement ring. Let's take a look at some of Yadav Diamond and Jewelry's most popular looks.
The Classic Band
If you want something tried-and-true and completely timeless, you'll love the classic band. Traditionally, the classic style is a solid, simple band made of gold. Now, people typically match the metal of their wedding band with their engagement ring, meaning your classic band could be yellow gold, white gold, rose gold, platinum, or whatever metal you chose. 
All classic bands are not made exactly the same, though, so you don't have to choose the same option everyone else has. You can alter the size of the band (1.50mm, 1.75mm, 2.00mm, and so on) and choose between styles.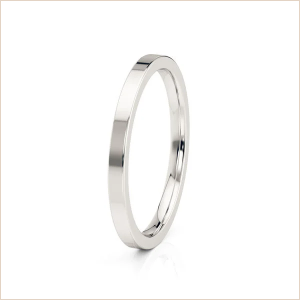 Flat - Classic flat bands
Like this beautiful 1.75mm flat band, have a more square or rectangular appearance with straight edges. Flat bands put a modern twist on the style, so flat bands are an excellent choice if you want to go traditional without being too traditional. 
Round - Round bands are the true classic style.
They have a more curved or domed appearance than flat bands. You can see it on this 1.50mm rounded band.
Half-Round - Half-round is somewhere in between the two styles above.
It isn't as domed as a round band and the edge that sits against your finger tends to be straighter, like a flat band. To get an idea, check out this 1.75 mm half-round band from Yadav. 
The Diamond Band
Diamond bands contain diamonds, of course! Instead of the "plain" band you'll find in the classic style, diamond bands are accented with glittering stones. If you want a showstopper wedding set, opt for a diamond band to keep all eyes on your rings.
There's no wrong way to add diamonds to your wedding band, either. You can choose a single stone, a few, or wrap the entire band in sparkle. Like the classic bands, you can also choose different styles like round, half-round, and flat to further customize its appearance. Yadav Diamonds and Jewelry even offers unique options like the Gianna Diamond Band or Luna Diamond Band that fit against your engagement ring for a stacked look.
With a diamond band, you have another opportunity to play with the shape and setting of your stones, too. Bezel settings are becoming trendy again, or you can go for the elegant baguette look. In other words, you're welcome to express just as much imagination and creativity with your wedding band as you want to. Go big, stay subtle, or strike a balance somewhere in the middle.
The Eternity Band
Last but certainly not least, there's the eternity band. Some eternity bands are also diamond bands, so you'll find some overlap. To qualify as an eternity band, you need a continuous band of stones. It creates an uninterrupted, or eternal, band and symbolizes your eternal love.
All eternity bands have gemstones, but unlike diamond bands, they must cover the entire band. Many people choose to have the same shape of stone across the entire band, as you'll see in this breathtaking emerald-cut eternity ring, but you can mix things up if that's more your style. Alternating shapes create a dazzling effect, like Yadav's Alternating Round and Baguette Eternity Band.
If you're interested in something at once subtle yet dazzling, try a pave eternity ring. This ring features multiple rows of pave diamonds to create a clean, sophisticated, yet eye-catching design.
With an eternity band, you'll be able to play with settings, diamond shape, size, and more to get a ring that is unique to you. If you have a preference between the flat, round, and half-round bands mentioned above, there's room for that, too!
How to Choose a Style
Every person has unique tastes. What one woman loves may not catch another person's eye. A wedding ring is individual and special, just like your marriage. However, there are a few questions to ask yourself that narrow things down.
Do you want additional stones?
Do you want a bold wedding ring or a subtle one? 
Do you want a stackable wedding set? 
Do you prefer a traditional, timeless look or are you modern and trendy?
Along with these questions, ask yourself what type of metal you want. Most people match their wedding band to their engagement ring in that respect, but the sky's the limit. Mixing metals is always an option! The same is true of diamond shapes. If you opt for a diamond or eternity band, you're not limited to the shape or setting of your engagement ring. Keep the look cohesive or branch out if your heart desires.
Final Thoughts
Many people pour a lot of thought and consideration into their engagement rings. Your wedding band deserves the same sort of devotion, especially since it is just as beautiful and meaningful. If you're looking for added sparkle, you'll get it with a diamond or eternity band. If you want ageless elegance, a classic band will serve you well.
Whatever you decide, the expert team at Yadav Diamonds and Jewelry is eager to help you get started. The only thing between you and the wedding band (or wedding set) of your dreams is setting up an appointment! If you're looking for inspiration in the meantime, browse Yadav's selection of wedding bands online. You'll find all three styles above, all metal options, and much more!